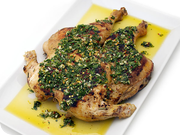 Spatchcock indicates that the chicken was flattened by removing the backbone, and then butterflied. This is a faster method for grilling a whole chicken, whether on the barbecue or an indoor grill. Marinating chicken in a lemon-salt based marinade adds flavor, but should not be done longer than twenty-four hours because the chicken will begin to cure. Add the chicken to a hot grill, skin-side down, on medium heat. Keep it flat by placing parchment paper on the chicken, topped with a heavy pan.
Kevin Gillespie (Season 6)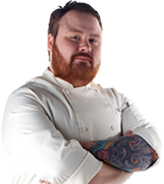 Determined to become a successful chef, Kevin worked part-time at various restaurants while carrying a full course load in school at the Art Institute of Atlanta. After graduating with honors, he went on to hold positions at several well-known Atlanta restaurants including Atlanta Grill at The Ritz-Carlton, Two Urban Licks and Woodfire Grill. In 2006, he and his wife Callie moved out west to Portland, Oregon, where he worked as the Executive Sous Chef at Fife Restaurant. Missing friends and family, they returned to Atlanta last year and Kevin became the Executive Chef at Woodfire Grill, where he is also a partner. Hot wings are his favorite junk food, and the five ingredients he keeps on hand at all times are banyuls vinegar, smoked pork, espelette pepper, lemon oil and lard.