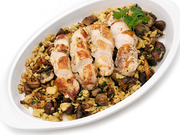 This is a very rustic, traditional dish. The full method is in the recipe tab, but here are some helpful hints. Make sure your rabbit loins are dry before searing - pat them with a towel if you need to. The meat is small, so it's going to cook fast - make sure you get good caramelization with a good hot pan. As always, give the meat room in the pan so it sears instead of steams. Spaetzle is basically German pasta. The fresh dough is quick and fairly easy to make. Push the dough through a colander or potato ricer and into boiling water for the ideal shape. Remember, a larger pasta will take longer to cook.
Brian Malarkey (Season 3)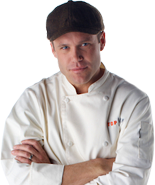 A native of Oregon, Brian grew up inspired by his grandmother's cooking and by all the fresh seafood and produce the area offered. He soon set his sights on California, where he was recently voted 2007 Best Chef in San Diego for his work as Executive Chef at the Oceanaire Seafood Room. He's in constant competition with everyone in San Diego and makes it a point to do everything bigger and better in his restaurant. At the top of his game, Brian's high-energy makes him a whirlwind in the kitchen. Stay-tuned to see just how long he can live by his motto, "Love, peace and happiness."