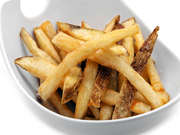 The French Fry is the perfect fried vegetable. Remember these hints to get restaurant quality fries in your home: Use oil with a high smoking point, like canola oil, vegetable oil or peanut oil. Cut your potatoes to the same size - not too thick. Soak in water for 30 minutes to remove the excess starch. Make sure they're dry before putting them in the pan - hot oil and water do not mix. Heat your oil to 350F and cook for 2-3 minutes. For thicker fries, your cooking time will be longer. If you'd like, you can cut and blanch the fries then store them in the fridge until you're ready for fry-time later on.
CJ Jacobsen (Season 3)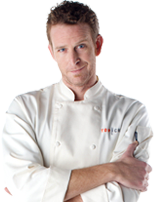 A true Californian at heart, CJ is a private chef who has worked for the likes of author and columnist Arianna Huffington and the Marciano Family of the Guess Corporation. An ex-volleyball player standing at 6'8" -- it seems everyone looks up to him. CJ is motivated to live life to the fullest having overcome testicular cancer. He has a competitive spirit and the utmost confidence in his culinary skills.