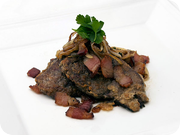 Calf's liver is also known as veal liver, and is the most tender liver to use. It is important to soak the liver in a dish of milk prior to cooking to remove impurities. Dredge the liver in seasoned flour and place it in a hot, oiled pan. Simply sear the liver; do not overcook it because it will become tough. Complimentary flavors to liver include bacon and onions. Take the time to try this long-time family favorite.
CJ Jacobsen (Season 3)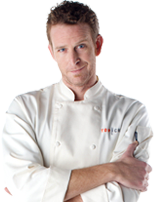 A true Californian at heart, CJ is a private chef who has worked for the likes of author and columnist Arianna Huffington and the Marciano Family of the Guess Corporation. An ex-volleyball player standing at 6'8" -- it seems everyone looks up to him. CJ is motivated to live life to the fullest having overcome testicular cancer. He has a competitive spirit and the utmost confidence in his culinary skills.