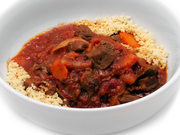 Stewing is like braising, with a few important differences: First, stewing is done with small cuts of meat instead of large ones. Second, in stewing, the meat is fully immersed in liquid (in braising, it's partially covered). Choose virtually any meat for your stew - lamb, rabbit, beef, or pork. It's best to buy a whole cut of meat and then cut it yourself. That way you know the level of tenderness you're dealing with.
CJ Jacobsen (Season 3)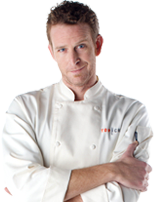 A true Californian at heart, CJ is a private chef who has worked for the likes of author and columnist Arianna Huffington and the Marciano Family of the Guess Corporation. An ex-volleyball player standing at 6'8" -- it seems everyone looks up to him. CJ is motivated to live life to the fullest having overcome testicular cancer. He has a competitive spirit and the utmost confidence in his culinary skills.