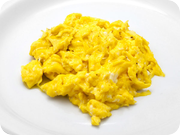 For the full how-to on scrambling eggs and making the classic French omelette, check out the recipe tab. You can find some helpful hints here: For scrambled eggs, use a non-stick pan for optimal results. Move the eggs around consistently to create tender, super-soft curds. Remove the eggs from heat promptly once they're finished. For the omelette, remember that practice makes perfect. Prep just like you would with scrambled eggs. Add butter to your skillet; wait until it foams then pour in the egg mixture. Add filling once the egg has settled, fold over on itself, then tap the pan on the cook top to loosen the omelette before sliding it out.
CJ Jacobsen (Season 3)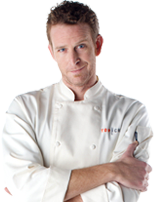 A true Californian at heart, CJ is a private chef who has worked for the likes of author and columnist Arianna Huffington and the Marciano Family of the Guess Corporation. An ex-volleyball player standing at 6'8" -- it seems everyone looks up to him. CJ is motivated to live life to the fullest having overcome testicular cancer. He has a competitive spirit and the utmost confidence in his culinary skills.