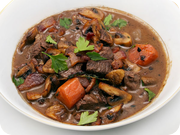 A warm comforting stew is perfect for a cool evening. A stew uses smaller cuts of meat, cooked in a liquid. Because of this it is acceptable to use a tougher cut of beef. Cut the vegetables into large, yet manageable pieces so that their shape will be maintained. Allow the beef and vegetables to marinate overnight. Even in a stew it is important to sear the beef. Make sure to do this before combining everything and cooking in a Dutch oven or large pot.
Marcel Vigneron (Season 2)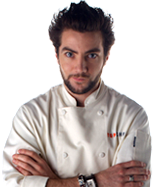 Marcel has always believed that cooking is a form of expression where chefs can show their creativity, complexity and enticement. It is these qualities that landed him a spot on this season's Top Chef. Serving as a teacher's assistant at the Culinary Institute of America, Marcel studied molecular gastronomy and butchery among other complex topics. He currently holds the title of Master Cook at Joel Robuchon and says that his nine-course tasting menu got him hired right on the spot.