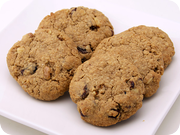 In this course, you're making more than cookies - you're also learning good basic baking principles. Here are some highlights: Always cream your butter at room temperature. Do not over-whip the butter - you'll lose the air you've worked so hard to incorporate. Always combine wet ingredients with wet ingredients first. Then fold that mixture into your combined dry ingredients. Once more, everything should be at room temperature. Crack eggs into a separate container before adding to the overall mixture. That way if an egg is bad you haven't ruined all of your ingredients. Remember to only mix until ingredients are combined. Over-mixing makes tough cookies. Finally, remember to give your cookies space on the baking tray. They'll spread out as they cook.
Dale Levitski (Season 3)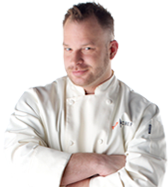 Chicago native Dale has been a chef for six years, with plans underway to open his own restaurant. Whether he's cooking four-star meals, diving, or doing gymnastics, Dale's competitive edge is undeniable. He has created something he calls "flavor math," where the right number of spices can bring the perfect flavor and taste. He uses French American cultural influences in his cooking, and is serious about putting his skills to the ultimate test. He loves the fact that the other contestants could be "out-cooked by a queer." Dale will say what everyone else is thinking.