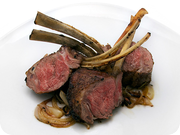 A rack of lamb is typically French-cut for presentation. If it is not, you need to remove and trim extra fat and sinew from the cut of lamb. Locate the loin, use a boning knife to remove the fat from the loin area and expose the bones. Cast iron is a great pan for searing meat since it holds heat well. Make sure to season the meat liberally and put it in the hot pan until just browned. Smoked rosemary imparts a fantastic flavor and fragrance to this dish.
CJ Jacobsen (Season 3)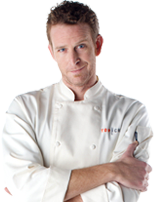 A true Californian at heart, CJ is a private chef who has worked for the likes of author and columnist Arianna Huffington and the Marciano Family of the Guess Corporation. An ex-volleyball player standing at 6'8" -- it seems everyone looks up to him. CJ is motivated to live life to the fullest having overcome testicular cancer. He has a competitive spirit and the utmost confidence in his culinary skills.