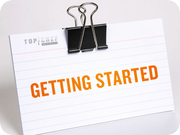 Success in the kitchen begins with organization. Keep your ingredients in front of you, and make sure all of your equipment is nearby and in good working order. You may have the luxury of designing your kitchen from the ground-up, but if not, there are things you can do to rearrange how you operate in the one you have. Make sure you have easy access from your main station to the stove, the sink, the fridge and the pantry. Also, use the concept of mise en place - that's French for "setting in place." This is the practice of having your ingredients measured and set before you in an organized way. Lastly, make sure you read the recipe - top to bottom - before you begin.
Carla Hall (Season 5)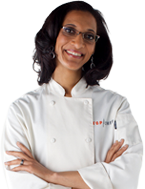 Carla is the chef and owner of Alchemy Caterers in Washington, D.C. Her food balances the heart and soul of the South and the refinement of her classic French training. She enjoys creating memorable comfort dishes with fresh, seasonal and local ingredients. Carla approaches each event as an opportunity to make a connection with the client and to change the way they experience food. She always has good European butter, Couverture chocolate, bacon, heavy cream, olive oil - pomace and extra virgin - on hand and pies are one of her favorite things to make.