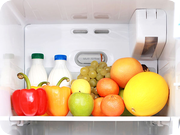 Keeping basic staples in your refrigerator and freezer helps you cook with ease and convenience. In your refrigerator, stock basics like milk, butter, eggs, cheese, fresh vegetables (onions, potatoes, garlic), fresh fruit, various meats (chicken breast, sausage, steaks) and mayonnaise. You'll also want to keep other items handy, such as jams, pickles, yeast, yogurt, heavy whipping cream, sour cream and buttermilk. Keep your fridge at 40 degrees Fahrenheit. Label items for freshness and label foods as you open them. Also, keep raw foods separate from cooked foods and regularly wipe down the shelves and interior walls of the appliance. In the freezer, keep staples such as chicken breast, ground beef, steaks, lamb chops, frozen mixed veggies (like peas and pearl onions, sweet corn or spinach), a baguette, stocks in ice cube form and a high-quality vanilla ice cream. Keep your freezer at 0 F or colder, freeze only foods that thaw well, and be sure to label all foods. Finally, keep in mind that thawing should always be done under refrigeration or cool running water - this keeps the food at a safe temperature.
Carla Hall (Season 5)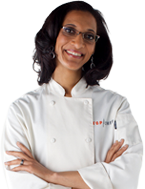 Carla is the chef and owner of Alchemy Caterers in Washington, D.C. Her food balances the heart and soul of the South and the refinement of her classic French training. She enjoys creating memorable comfort dishes with fresh, seasonal and local ingredients. Carla approaches each event as an opportunity to make a connection with the client and to change the way they experience food. She always has good European butter, Couverture chocolate, bacon, heavy cream, olive oil - pomace and extra virgin - on hand and pies are one of her favorite things to make.