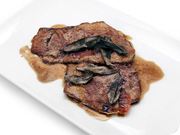 Veal is extremely tender and cooks quickly. The flavor in this dish is enhanced with salt, applied in the form of prosciutto. Place the meat between two pieces of plastic wrap before pounding it with a meat mallet, season and cook. Dredging the veal in flour before cooking will cause the outside to crisp up. Don't allow it to burn. Create the sauce in the same pan and plate the veal, topped with the fresh sauce.
CJ Jacobsen (Season 3)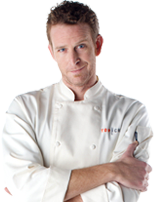 A true Californian at heart, CJ is a private chef who has worked for the likes of author and columnist Arianna Huffington and the Marciano Family of the Guess Corporation. An ex-volleyball player standing at 6'8" -- it seems everyone looks up to him. CJ is motivated to live life to the fullest having overcome testicular cancer. He has a competitive spirit and the utmost confidence in his culinary skills.