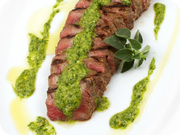 Sauces round out the flavor of grilled and roasted meats, fish and vegetables. One interesting example is chimichurri - an herb-based sauce from Argentina that's great with grilled meats. You can make a smooth or chunky version, depending on what textures appeal to you. Salsa verde is similar to chimichurri - just take out the chili flakes and oregano and add in tarragon, chives, chervil, capers and shallots. As a final example, consider gremolata - an Italian condiment most often found with the classic dish Osso Bucco. You can be prepared to make any of these sauces just by keeping a few simple herbs and a head of garlic on-hand at all times.
Spike Mendelsohn (Season 4)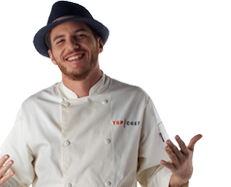 Spike works as the chef de cuisine at Tribeca's new hotspot restaurant, Mai House, owned by the renowned restaurateur Drew Nieporent. Mai House was named as one of the New York Times' top ten best new restaurants of 2007. Born in Montreal, Canada and trained in classic French cuisine in restaurants around the world. Spike has worked with Gerard Boyer at Les Crayeres, Thomas Keller at Bouchon and The Maccioni Family at Le Cirque. Spike believes in learning the basics to become the best. His latest venture is opening a new chain, Good Stuff Eatery, with his family (first location opening in Washington D.C. later this year) The new restaurant features his weaknesses -- hamburgers, hot dogs, fries and milkshakes.