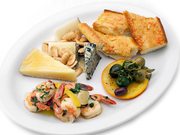 Tapas are small dishes with big flavors. They've become wildly popular as a perfect pairing with wine and cocktails. For our course, we're cooking up poached Spanish olives, Spanish garlic shrimp, crunchy tomato bread and a selection of Spanish cheeses. Regional elements are important. For the shrimp, you'll be using espelette pepper - an ingredient from the Basque area bordering France. For your cheeses, look for the Denomination of Origin stamp that certifies the authenticity of each variety.
Brian Malarkey (Season 3)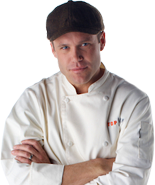 A native of Oregon, Brian grew up inspired by his grandmother's cooking and by all the fresh seafood and produce the area offered. He soon set his sights on California, where he was recently voted 2007 Best Chef in San Diego for his work as Executive Chef at the Oceanaire Seafood Room. He's in constant competition with everyone in San Diego and makes it a point to do everything bigger and better in his restaurant. At the top of his game, Brian's high-energy makes him a whirlwind in the kitchen. Stay-tuned to see just how long he can live by his motto, "Love, peace and happiness."