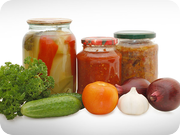 A well stocked kitchen will give you greater flexibility as you cook. There are staples that every pantry should have, including kosher salt, black pepper (in a mill), extra-virgin olive oil, vinegar (red and/or white and/or balsamic), flour, sugar (white and brown), baking powder, boxed chicken broth, canned tomatoes, rice, various pastas, dried and canned beans, canned tuna, olives, tuna, nuts, chocolate, ketchup, soy sauce, and spices such as cumin, cayenne, fennel seeds, curry powder, cinnamon, oregano, nutmeg, white pepper, bay leaves, onion powder, garlic powder and red pepper flakes. Organize your pantry with the most-used items on easy-to-reach shelves. Store heavy items on the bottom - but off the floor - and use airtight containers for bulk items. Finally, label all items to be sure you're always using something fresh.
Carla Hall (Season 5)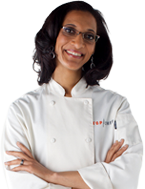 Carla is the chef and owner of Alchemy Caterers in Washington, D.C. Her food balances the heart and soul of the South and the refinement of her classic French training. She enjoys creating memorable comfort dishes with fresh, seasonal and local ingredients. Carla approaches each event as an opportunity to make a connection with the client and to change the way they experience food. She always has good European butter, Couverture chocolate, bacon, heavy cream, olive oil - pomace and extra virgin - on hand and pies are one of her favorite things to make.