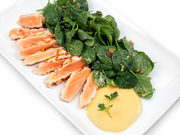 Dressings don't have to be fatty to be flavorful. Here we make a carrot ginger vinaigrette that's loaded with flavors, not calories. It's a delicate balance of sweetness (carrot and ginger) and saltiness (soy sauce). Rice vinegar gives it a tang and tofu brings a creamy texture. The sesame oil rounds out the flavor with nutty fullness. Remember to add the oil slowly so that it emulsifies. And in all your dressings, try using buttermilk or low fat yogurt instead of mayo, sour cream or heavy cream. You can also plus the health of your salad by avoiding cheese, bread and bacon and opting for salads with grains, nuts and seeds. Final tip: dressing on the side gives you a healthy amount of calorie control, too.
Spike Mendelsohn (Season 4)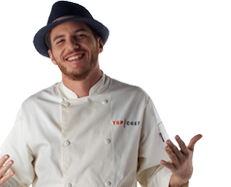 Spike works as the chef de cuisine at Tribeca's new hotspot restaurant, Mai House, owned by the renowned restaurateur Drew Nieporent. Mai House was named as one of the New York Times' top ten best new restaurants of 2007. Born in Montreal, Canada and trained in classic French cuisine in restaurants around the world. Spike has worked with Gerard Boyer at Les Crayeres, Thomas Keller at Bouchon and The Maccioni Family at Le Cirque. Spike believes in learning the basics to become the best. His latest venture is opening a new chain, Good Stuff Eatery, with his family (first location opening in Washington D.C. later this year) The new restaurant features his weaknesses -- hamburgers, hot dogs, fries and milkshakes.