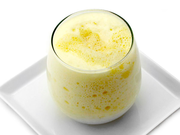 Foams are fairly simple to make at home. Start with boiled potatoes passed through a sieve. Mix ingredients together over heat, and when it reaches a soupy consistency (or just a little looser), let cool for a moment and place inside a whipped cream canister. Charge your canister with nitrous oxide and dispense your foam on the bottom of an upturned glass bowl. It should look somewhat like shaving cream. For an air, start with a very tall stock pot. Add ingredients and blend with an immersion blender. Let it rest, then scoop the bubbly mixture away. When you do, it should sound like a bubble bath.
Richard Blais (Season 4)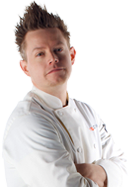 Richard is not only a chef, but also a culinary designer, working all over the east coast. He and his wife reside in Atlanta, Georgia with their two weimaraners and are expecting their first child in the spring. He is known for his innovative and personal take on classical cuisine and has studied under luminaries such as Thomas Keller, Daniel Boulud, and Ferran Adria. Richard believes cooking is an art and a craft and food is meant to stimulate on many levels. He incorporates global ingredients, modern cooking methods, wit and a sense of humor to all his food. He says if he were a food he would be an artichoke. "It's tough, difficult to work with, even dangerous at its core; but when you come down to it, it's simple, beautiful and delicious."