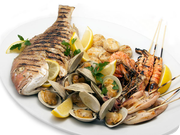 Different types of seafood require different techniques. For shrimp, grill with the shell on - just split it down the back. You can also skewer the shrimp, especially if they're smaller (this keeps them from falling through the grill). Make sure to run it through length-wise so the shrimp doesn't curl up. For scallops and calamari, use medium-high heat and make sure they're patted dry. Don't move them once on the grill - except to flip - this ensures good caramelization and grill marks. Be careful not to over-cook, and consider a skewer if the food is small. For a whole fish, start with an extremely hot grill and a dry, lightly oiled fish to prevent sticking. Consider stuffing the inside with an aromatic herb blend. Use two spatulas to carefully turn the fish and keep it whole. Finally, a note on mussels or clams: use a flat plate on the grill if you have one, or use some sheets of foil to capture the juices. Cook on high on your flat surface, pouring a little liquid like white wine, veggie broth or beer for steaming. Cover or put the lid down and cook for seven minutes. For all seafood, beware of overcooking. Keep your grill on medium-high heat.
Ariane Duarte (Season 5)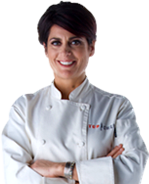 Ariane is the chef/owner of CulinAriane, a four-star restaurant located in Montclair, N.J. She was inspired to cook at a young age by her grandmothers. After graduating from the Culinary Institute of America, she worked at some of the best restaurants in the country before she and her husband, Michael, opened CulinAriane. While much of her time is spent at her restaurant, she loves spending time with her daughters, especially at the beach. She also enjoys entertaining for family and friends. Her strong belief is that anything can be fixed and to keep smiling.