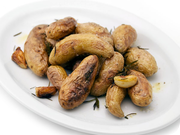 The beauty of roasting potatoes is creating a delicious dish without masquerading the natural flavors of the primary ingredient. Roast potatoes with the skins on, and toss them well in oil and spices. For fingerling potatoes, you can even roast them whole. Pre-heat your sheet tray in the oven to help keep the potatoes from sticking. Cook on high heat for a crispy exterior and moist interior. For smashed potatoes, use Yukon Golds or New Potatoes. Start by washing and cleaning the potatoes and then placing them in cold water. Bring the water to boiling and salt the hot water well. Remember - you can combine other root vegetables with your potato puree for more inventive flavors.
Stephanie Izard (Season 4)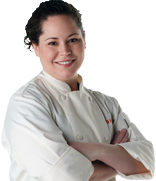 Until recently, Stephanie was the chef/owner of Scylla in Chicago. She is now enjoying traveling, both domestically and abroad, while planning her next exciting venture. Stephanie's biggest lure in cooking is seafood because the same fish can be cooked so many different ways - grilled, poached, cured, pan roasted - and this brings out different attributes, flavors and textures. Stephanie says in her cooking, contrasting and complementary elements are essential, but balance is non-negotiable. She has always been very driven and a bit of a risk-taker. "Once I set my mind to something, I follow through. It always has to be 110%."