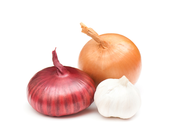 To break up a garlic bulb, place the head upside-down on your cutting board, then push down with the palm of your hand. Peel the clove by laying it on the board and gently mashing it with the flat of your knife blade, loosening the paper. Run your knife through for slices, or mince it by smashing it flatter during the peeling stage until it disintegrates then slice the resulting pulp. For paste, add a sprinkle of kosher salt to minced garlic and smear the combination with the flat of your blade. To roast garlic, cut off the top of the head, then place in tightly-sealed and oiled foil pouch and roast in the oven for 30-35 minutes. When done, remove from pouch and squeeze out the pulp. To peel an onion, make a shallow slice from tip to root, then remove the outer layer and discard. Slice lengthwise for crescents or cross-wise for rings. To dice, half the onion and place flat on the board. Make horizontal cuts through the onion to the root - but not all the way (you want it to stay together). Now run the knife through, turning your matchsticks into a dice.
Carla Hall (Season 5)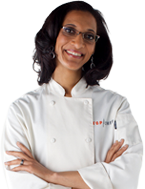 Carla is the chef and owner of Alchemy Caterers in Washington, D.C. Her food balances the heart and soul of the South and the refinement of her classic French training. She enjoys creating memorable comfort dishes with fresh, seasonal and local ingredients. Carla approaches each event as an opportunity to make a connection with the client and to change the way they experience food. She always has good European butter, Couverture chocolate, bacon, heavy cream, olive oil - pomace and extra virgin - on hand and pies are one of her favorite things to make.