Good knife skills take practice. Start with these basics. Hold the handle with you hand close to the heel of the blade and gently grasp with your thumb and the inside of your index finger. Use a fluid motion when cutting, rocking back and forth with the knife's natural curve. Use your free hand to guide, but keep your thumb and your knuckles tucked back to avoid accidents. Common cuts include slices, matchsticks, cubing and planks. A "chiffonade" is any thinly-sliced ribbon of leafy greens or herbs. Stack or roll the leaves then slide the knife gently through to achieve this effect.
Carla Hall (Season 5)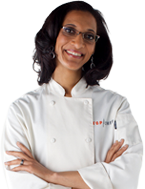 Carla is the chef and owner of Alchemy Caterers in Washington, D.C. Her food balances the heart and soul of the South and the refinement of her classic French training. She enjoys creating memorable comfort dishes with fresh, seasonal and local ingredients. Carla approaches each event as an opportunity to make a connection with the client and to change the way they experience food. She always has good European butter, Couverture chocolate, bacon, heavy cream, olive oil - pomace and extra virgin - on hand and pies are one of her favorite things to make.