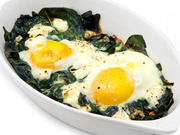 To coddle eggs simply means to cook in a water bath. If you don't have a coddler as your cooking vessel, use a ramekin. Remember to rub the inside with butter so your egg doesn't stick, and to make sure you've covered the top tightly with foil before lowering it into your bain marie (that's the French term for water bath). For baked eggs - or shirred eggs - use a similar vessel as you did with coddled eggs. Remember to butter it.
CJ Jacobsen (Season 3)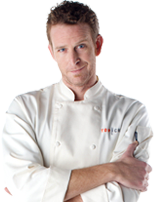 A true Californian at heart, CJ is a private chef who has worked for the likes of author and columnist Arianna Huffington and the Marciano Family of the Guess Corporation. An ex-volleyball player standing at 6'8" -- it seems everyone looks up to him. CJ is motivated to live life to the fullest having overcome testicular cancer. He has a competitive spirit and the utmost confidence in his culinary skills.