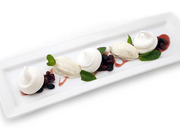 Meringues are basically made from egg whites and sugars. They're crispy on the outside and marshmallow-soft on the inside. Here are the different types: Italian Meringue - sugar is cooked to 238 degrees F and then poured down the side of a bowl while whisking in egg whites. This is the most stable meringue. Swiss Meringue - egg whites and sugar are whisked over a double boiler, then beaten away from the heat until firm and glossy. French Meringue - egg whites and sugar are whisked together with a stabilizer until stiff peaks form. This is the easiest of the meringues - and it's the one we use for mini pavlovas.
Dale Levitski (Season 3)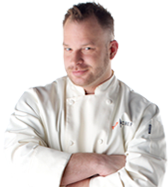 Chicago native Dale has been a chef for six years, with plans underway to open his own restaurant. Whether he's cooking four-star meals, diving, or doing gymnastics, Dale's competitive edge is undeniable. He has created something he calls "flavor math," where the right number of spices can bring the perfect flavor and taste. He uses French American cultural influences in his cooking, and is serious about putting his skills to the ultimate test. He loves the fact that the other contestants could be "out-cooked by a queer." Dale will say what everyone else is thinking.