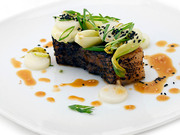 This is a great dish for entertaining because it can be prepped ahead of time. When you and your guests are hungry, just pop it in the oven. We use Chilean Sea Bass because of its slightly sweet flavor - the perfect counterpoint to the miso. Speaking of miso, look for fermented soybean paste, not sweet miso (also called "saikyo"). And be careful not to salt your marinade - the soy sauce will provide any of that. For the pickled bok choy, we've used the baby variety. That's because full-grown bok choy can get a little bitter.
Richard Blais (Season 4)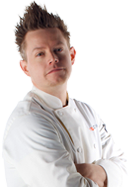 Richard is not only a chef, but also a culinary designer, working all over the east coast. He and his wife reside in Atlanta, Georgia with their two weimaraners and are expecting their first child in the spring. He is known for his innovative and personal take on classical cuisine and has studied under luminaries such as Thomas Keller, Daniel Boulud, and Ferran Adria. Richard believes cooking is an art and a craft and food is meant to stimulate on many levels. He incorporates global ingredients, modern cooking methods, wit and a sense of humor to all his food. He says if he were a food he would be an artichoke. "It's tough, difficult to work with, even dangerous at its core; but when you come down to it, it's simple, beautiful and delicious."