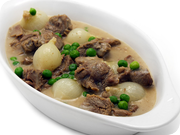 Veal is typically a young tender cut of beef. For purposes of this stew, it is acceptable to use cubed, or stewing veal, which will tenderize during the cooking process. The vegetables used aid in creation of the stock, and are for flavoring the veal. During the final preparation, a roux will be made to prepare the veloute sauce; be sure to stir constantly to eliminate any lumps.
CJ Jacobsen (Season 3)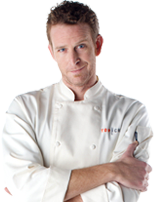 A true Californian at heart, CJ is a private chef who has worked for the likes of author and columnist Arianna Huffington and the Marciano Family of the Guess Corporation. An ex-volleyball player standing at 6'8" -- it seems everyone looks up to him. CJ is motivated to live life to the fullest having overcome testicular cancer. He has a competitive spirit and the utmost confidence in his culinary skills.