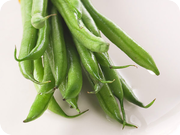 Blanching keeps veggies crisp, flavorful and nutritious. It's also an essential part of peeling a tomato for concasse. Put simply, blanching is boiling food very quickly. Bring a saucepan half-full of water to a vigorous boil, salt generously, and submerge your vegetable. Different varieties require different times - just look for a bright color and test for crispy tenderness. When finished, submerge the vegetables in an ice bath immediately using a slotted spoon. This stops the cooking process immediately and helps seal in flavor. Salting your ice bath adds extra savor. For a tomato concasse, core the tomato and place them in boiling water. Remove after five minutes and plunge into the ice bath. Then you can peel the tomato by scoring a criss-cross on the bottom and peeling away at the corners. Chop into chunks and you've got the base for your marinara.
Ariane Duarte (Season 5)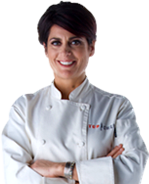 Ariane is the chef/owner of CulinAriane, a four-star restaurant located in Montclair, N.J. She was inspired to cook at a young age by her grandmothers. After graduating from the Culinary Institute of America, she worked at some of the best restaurants in the country before she and her husband, Michael, opened CulinAriane. While much of her time is spent at her restaurant, she loves spending time with her daughters, especially at the beach. She also enjoys entertaining for family and friends. Her strong belief is that anything can be fixed and to keep smiling.