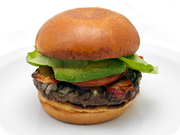 Use a blend of meats to make the perfect burger; chuck is the basic beef to include. Mixed with ground skirt steak, short rib and even bacon you will have a blend that will give you a blazing burger taste. Remember that when you grind your own meats, the grinder attachment and bowls must all be completely chilled, and the meat must be trimmed. Form the patties from chilled meat; this makes it easier to work with. Sear the burgers on a hot grill and serve up with your choice of sides.
CJ Jacobsen (Season 3)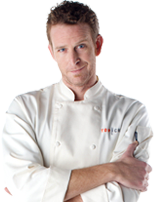 A true Californian at heart, CJ is a private chef who has worked for the likes of author and columnist Arianna Huffington and the Marciano Family of the Guess Corporation. An ex-volleyball player standing at 6'8" -- it seems everyone looks up to him. CJ is motivated to live life to the fullest having overcome testicular cancer. He has a competitive spirit and the utmost confidence in his culinary skills.