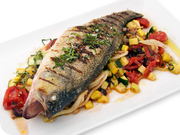 There is no need to fear grilling a whole fish. You must choose a firm-fleshed fish, such as branzino, tuna, swordfish or snapper. Make sure your grill is very hot, and along with choosing a firm-fleshed fish, you minimize the possibility of it sticking to the grill. Season the fish, and just before placing the fish on the grill, drizzle it with a bit of oil. The skin will caramelize and release easily from the grill. Carefully turn the fish and cook the reverse side and you'll serve up a delicious grilled fish, beautiful to serve on a platter along with vegetables.
Stephanie Izard (Season 4)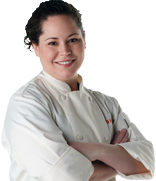 Until recently, Stephanie was the chef/owner of Scylla in Chicago. She is now enjoying traveling, both domestically and abroad, while planning her next exciting venture. Stephanie's biggest lure in cooking is seafood because the same fish can be cooked so many different ways - grilled, poached, cured, pan roasted - and this brings out different attributes, flavors and textures. Stephanie says in her cooking, contrasting and complementary elements are essential, but balance is non-negotiable. She has always been very driven and a bit of a risk-taker. "Once I set my mind to something, I follow through. It always has to be 110%."