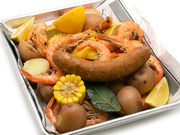 Boiling is strictly defined as cooking food by complete immersion in water or stock heated at 100 degrees Celsius. Remember these basics: Root veggies should be started in cold water to filter out bitterness. Cover with a lid, turn up the heat and add salt once they're at a boil. Start green and leafy veggies in water that's already salted and boiling. Once they're added, cover with a lid until boiling again, then remove it. Remove any material that rises to the top by skimming it away. Replace lost water to keep your food from drying out. And when finished, drain cooking water immediately and rinse the food with cold water. To simmer, keep the temperature at 95-99 degrees Celsius. Look for gentle currents or small bubbles just breaking the surface. For the perfect hardboiled egg, place in cold water with one inch of water above. Bring to boil quickly, then remove from heat instantly and let stand for 13 minutes. Then place the eggs in cold water for easy pealing. For soft boiling, bring a saucepan half-filled with water to a boil, lower the egg in for 4-6 minutes then serve right away.
Ariane Duarte (Season 5)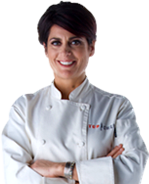 Ariane is the chef/owner of CulinAriane, a four-star restaurant located in Montclair, N.J. She was inspired to cook at a young age by her grandmothers. After graduating from the Culinary Institute of America, she worked at some of the best restaurants in the country before she and her husband, Michael, opened CulinAriane. While much of her time is spent at her restaurant, she loves spending time with her daughters, especially at the beach. She also enjoys entertaining for family and friends. Her strong belief is that anything can be fixed and to keep smiling.