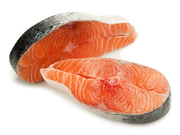 There are two different methods to filleting a fish and it depends on whether you are working with a flat or round fish. Place the raw fish on a paper towel when working with it to prevent it from slipping on the work surface. After removing the fillets, clean them and remove any small bones that may be on the fillet. A sharp sushi knife or slicer is ideal for removing the skin. The technique is to pull the skin away from the fish, rather than move the knife through the skin. Trim as necessary.
Stephanie Izard (Season 4)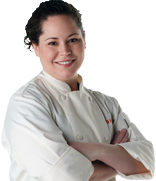 Until recently, Stephanie was the chef/owner of Scylla in Chicago. She is now enjoying traveling, both domestically and abroad, while planning her next exciting venture. Stephanie's biggest lure in cooking is seafood because the same fish can be cooked so many different ways - grilled, poached, cured, pan roasted - and this brings out different attributes, flavors and textures. Stephanie says in her cooking, contrasting and complementary elements are essential, but balance is non-negotiable. She has always been very driven and a bit of a risk-taker. "Once I set my mind to something, I follow through. It always has to be 110%."