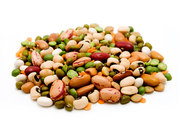 When you cook with dried beans instead of canned beans, you maintain complete control of your flavorings and seasonings. Here are some of the most common types of dried beans: Favas - rich, dense and slightly bitter. Borlotti - speckled, nutty, and great in Italian cuisine. Garbanzo - also called chickpeas, they're dense, round and savory. Black Beans - most often found in Latin American cuisine, they've got a strong earthy flavor. Cannellini Beans - smooth and nutty, it's often found in minestrone soup and bean salads. Though dried beans do last awhile, it's important to eat them while they're relatively fresh. Store them at room temperature in an air-tight container; never in the fridge. To shorten the cooking time, try soaking your beans. There are two methods: the cold (or long) soak method and the hot (or quick) soak method. For long soaking, place them in a large vessel and cover with 3x the amount of water. Soak for eight hours or a little more - but never more than 12 hours. For quick soaking, boil the beans in water for two minutes. Remove from heat and cover the pot, letting stand for one hour. Then discard the soak water and cook.
CJ Jacobsen (Season 3)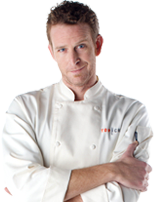 A true Californian at heart, CJ is a private chef who has worked for the likes of author and columnist Arianna Huffington and the Marciano Family of the Guess Corporation. An ex-volleyball player standing at 6'8" -- it seems everyone looks up to him. CJ is motivated to live life to the fullest having overcome testicular cancer. He has a competitive spirit and the utmost confidence in his culinary skills.