There are two primary classes of herbs: tender and robust. Tender herbs include Chives, Cilantro, Dill, Mint, Parsley and Tarragon. Robust herbs include Bay leaves, Marjoram, Oregano, Rosemary, Sage and Thyme. Herbs such as Rosemary can be used whole - just be sure to always remove the woody parts. To chop herbs, roll them into a tight "cigar" formation, press the tip of your knife into the cutting board, then push the herbs underneath as you rock the blade. For a bouquet-garni, simply tie some herbs together with kitchen twine and drop into soup or broth. Use a piece of cheesecloth as an alternative. Fresh herbs can be stored in a resealable plastic bag for up to a week, or in a bowl of water (like fresh flowers).
Carla Hall (Season 5)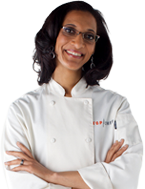 Carla is the chef and owner of Alchemy Caterers in Washington, D.C. Her food balances the heart and soul of the South and the refinement of her classic French training. She enjoys creating memorable comfort dishes with fresh, seasonal and local ingredients. Carla approaches each event as an opportunity to make a connection with the client and to change the way they experience food. She always has good European butter, Couverture chocolate, bacon, heavy cream, olive oil - pomace and extra virgin - on hand and pies are one of her favorite things to make.