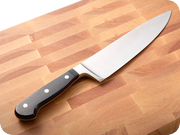 Knives are a chef's best friend. The chef's knife is your most important cutting instrument - 8-10 inches long and great for slicing, mincing and chopping anything. Your paring knife is a smaller tool best used for coring, peeling and trimming. The Santoku is like a chef's knife only shorter - and with a scalloped edge that's great for slicing veggies. Other options include a bread knife, a boning knife and a good filleting knife. After each use, run your knife along the honing steel a few times. Periodically, sharpen your knives on a whetstone - just follow the manufacturer's instructions, then run the edge of the blade along it at a 20-degree angle from tip to heel. Repeat about 10 times on each side. Wipe the blade down and you're finished. Choose knives that feel comfortable to you. There are also many different materials to choose from - each has its own characteristics, so do some research and see what most fits your cooking needs.
Carla Hall (Season 5)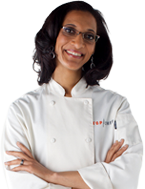 Carla is the chef and owner of Alchemy Caterers in Washington, D.C. Her food balances the heart and soul of the South and the refinement of her classic French training. She enjoys creating memorable comfort dishes with fresh, seasonal and local ingredients. Carla approaches each event as an opportunity to make a connection with the client and to change the way they experience food. She always has good European butter, Couverture chocolate, bacon, heavy cream, olive oil - pomace and extra virgin - on hand and pies are one of her favorite things to make.