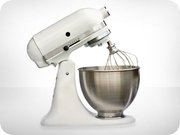 Here's the basic equipment you need to cook like a Top Chef. First, the range. Available in gas, electric and induction, each has its own pros and cons. Gas provides natural fast heat and precise control. Electric ranges are common to most home kitchens. And induction ranges are high-tech options that use electro-magnetic energy to heat up the surface of the pot or pan instead of the surface of the range itself - this results in energy efficiency and speedy heat. Second, the oven: most kitchens feature a convection oven instead of a conventional one. Third, the microwave: essential for quick and thorough heating and re-heating. Beyond big appliances, you should also have a food processor, a blender and possibly an immersion blender. Finally, a bench-top mixer will enable you to whip egg whites, make cakes, knead dough, and even roll out pasta or make sausage.
Carla Hall (Season 5)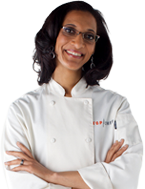 Carla is the chef and owner of Alchemy Caterers in Washington, D.C. Her food balances the heart and soul of the South and the refinement of her classic French training. She enjoys creating memorable comfort dishes with fresh, seasonal and local ingredients. Carla approaches each event as an opportunity to make a connection with the client and to change the way they experience food. She always has good European butter, Couverture chocolate, bacon, heavy cream, olive oil - pomace and extra virgin - on hand and pies are one of her favorite things to make.