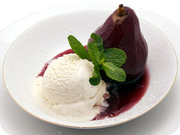 For fruits that are out-of-season or not quite ripe, poaching offers a way to enjoy them immediately. Cook the fruit in water sweetened with sugar, or, for pears and figs, consider sweetened red wine such as port. Either way, remember to keep your poaching syrup only lightly sweetened. When using spirits, add them to the syrup only after it has been reduced and cooled, not at the beginning of the poaching process. Peel and core your fruit appropriately, and poach until tender. Allow to cool in the syrup so they absorb the flavors. Remove the fruit, then reduce the liquid. Pour the reduced syrup over the fruit and you're ready to serve.
Ariane Duarte (Season 5)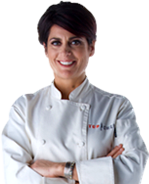 Ariane is the chef/owner of CulinAriane, a four-star restaurant located in Montclair, N.J. She was inspired to cook at a young age by her grandmothers. After graduating from the Culinary Institute of America, she worked at some of the best restaurants in the country before she and her husband, Michael, opened CulinAriane. While much of her time is spent at her restaurant, she loves spending time with her daughters, especially at the beach. She also enjoys entertaining for family and friends. Her strong belief is that anything can be fixed and to keep smiling.