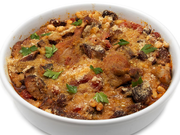 A cassoulet is what's called a "peasant dish." It's a kind of stew that features three main components: beans, a confit of duck or goose and an herbed meat. When you're preparing your beans, a ham hock or other savory meat element will add phenomenal flavor. As for the stew itself, be sure to reduce after adding wine and tomatoes, and always ad a bouquet garni for added aroma and complexity.
CJ Jacobsen (Season 3)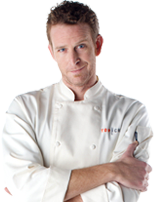 A true Californian at heart, CJ is a private chef who has worked for the likes of author and columnist Arianna Huffington and the Marciano Family of the Guess Corporation. An ex-volleyball player standing at 6'8" -- it seems everyone looks up to him. CJ is motivated to live life to the fullest having overcome testicular cancer. He has a competitive spirit and the utmost confidence in his culinary skills.