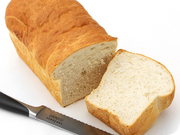 Pain de mie is a basic white bread dough recipe. Having the skills to make basic bread allows you to create a variety of dough used in other recipes. Yeast must be activated with room temperature water, between 105F and 115F. It can be destroyed if the temperature is too cold or too hot, so an instant read thermometer is recommended. Kneading the dough develops gluten which gives structure to the bread. It is important to work the dough, then let it rise in a warm dry place before baking.
Nikki Cascone (Season 4)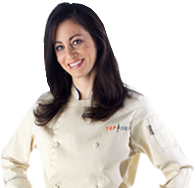 Nikki operates 24 Prince Restaurant in New York City as the chef and co-owner. Trained for many years in back of house and in front of house operations with great chefs like Jean-Georges, Shaun Doty and Anne Quatrano, Nikki believes a great chef must understand how to run a business as well as possess outstanding cooking skills. She is also a certified sommelier with extensive wine knowledge. Nikki loves not being restricted to any one particular cuisine and experiments with flavors and ingredients from all over the world. She considers growing up in New York to be the best culinary education one can obtain and says her family and friends constantly tease her about how passionate she is about food. Her future plans are to expand her restaurant group with several new concepts.