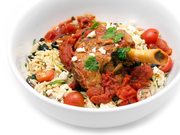 Shank of lamb is the cut of meat from the leg to the shoulder. It contains a lot of sinew and makes this a great cut for braising. Sear the meat prior to braising it in the oven and allow it to cook for a couple of hours. This results in meat that will fall from the bone. Don't be afraid to experiment with various flavorings to change up the dish.
CJ Jacobsen (Season 3)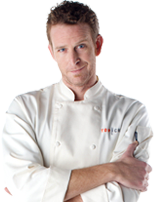 A true Californian at heart, CJ is a private chef who has worked for the likes of author and columnist Arianna Huffington and the Marciano Family of the Guess Corporation. An ex-volleyball player standing at 6'8" -- it seems everyone looks up to him. CJ is motivated to live life to the fullest having overcome testicular cancer. He has a competitive spirit and the utmost confidence in his culinary skills.