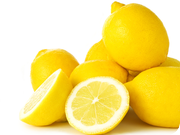 There are three principal ways to work with citrus: zesting, segmenting and reaming. Always start by washing the citrus thoroughly to remove the wax applied for protection. To get the zest off of a lemon - that's the colorful outer part of the peel outside of the bitter white pith - it's best to use a rasp-style grater. Segmenting is typically done with sweeter citrus, like orange. Slice off the top and bottom and expose the flesh. Stand the fruit on one end, then peel off the rind and pith, cutting along the contour of the fruit. Hold over a bowl and use a paring knife to cut between segments. To juice a citrus - like a lime - roll it on a countertop then cut in half crossways. Insert a reamer or the tines of a fork into the center of the fruit, hold over a bowl with a sieve on top, then twist.
Carla Hall (Season 5)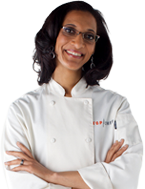 Carla is the chef and owner of Alchemy Caterers in Washington, D.C. Her food balances the heart and soul of the South and the refinement of her classic French training. She enjoys creating memorable comfort dishes with fresh, seasonal and local ingredients. Carla approaches each event as an opportunity to make a connection with the client and to change the way they experience food. She always has good European butter, Couverture chocolate, bacon, heavy cream, olive oil - pomace and extra virgin - on hand and pies are one of her favorite things to make.