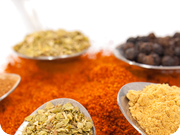 The spices most commonly used in the kitchen include salt (in the form of course, full-flavored Kosher, Fleur de Sel, Maldon or common table salt), pepper (black peppercorns in a grinder), Paprika (dried red pepper), Coriander (cilantro seeds), Cardamom, Saffron (the most expensive spice), Star Anise (with a strong licorice flavor), Cloves (dried myrtle-flower buds), Cinnamon (dried bark), Ginger (a sweet/spicy root), Nutmeg (a large seed that is usually ground), and Fennel (another licorice flavor). To ready spices for use, place a pan or skillet over medium heat. Spread the spices evenly then shake the pan constantly to prevent burning. Cook until you can smell the strong bouquet. To grind them, place the spice in a mortar bowl and grind with a pestle. You can also use a coffee grinder - just be sure to use a separate one than you use for your actual coffee.
Carla Hall (Season 5)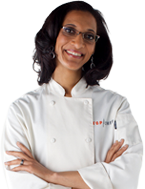 Carla is the chef and owner of Alchemy Caterers in Washington, D.C. Her food balances the heart and soul of the South and the refinement of her classic French training. She enjoys creating memorable comfort dishes with fresh, seasonal and local ingredients. Carla approaches each event as an opportunity to make a connection with the client and to change the way they experience food. She always has good European butter, Couverture chocolate, bacon, heavy cream, olive oil - pomace and extra virgin - on hand and pies are one of her favorite things to make.