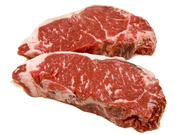 New York strip is a full-flavored cut of beef. Season the meat liberally with salt to pull out excess moisture and enhance the flavor. Pan-cooked strip steak should be cooked over a high heat; grapeseed oil is recommended because of its high smoke point. Be sure to remove excess moisture from the meat before adding it to the hot pan and you will achieve a good sear to the meat. Simple to prepare and served with an accompanying sauce, this is always a crowd pleaser.
Marcel Vigneron (Season 2)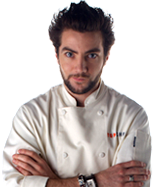 Marcel has always believed that cooking is a form of expression where chefs can show their creativity, complexity and enticement. It is these qualities that landed him a spot on this season's Top Chef. Serving as a teacher's assistant at the Culinary Institute of America, Marcel studied molecular gastronomy and butchery among other complex topics. He currently holds the title of Master Cook at Joel Robuchon and says that his nine-course tasting menu got him hired right on the spot.