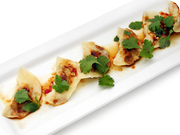 Potstickers are named for their remarkably sticky wrappers. These ancient dumplings are both steamed and fried. Be sure to get the freshest shrimp you can. Frozen shrimp is just fine if that's all you have available. For crab, look for fresh-frozen, though canned is acceptable in a pinch. As always, keep your seafood iced down or in the fridge until the moment you're about to use it. Remember to use white pepper - it's always a good mild choice for seafood. For frying, use peanut oil. Be gentle with the potstickers before frying - listen for a light sizzle. If you're using a non-stick pan, use a rubber spatula. In our recipe, you'll steam the potstickers with chicken stock.
Brian Malarkey (Season 3)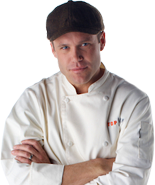 A native of Oregon, Brian grew up inspired by his grandmother's cooking and by all the fresh seafood and produce the area offered. He soon set his sights on California, where he was recently voted 2007 Best Chef in San Diego for his work as Executive Chef at the Oceanaire Seafood Room. He's in constant competition with everyone in San Diego and makes it a point to do everything bigger and better in his restaurant. At the top of his game, Brian's high-energy makes him a whirlwind in the kitchen. Stay-tuned to see just how long he can live by his motto, "Love, peace and happiness."