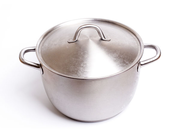 A flavorful poaching liquid can be repurposed as a delicious broth or sauce for your meal. One example is the court bouillon. This kind of poaching (in addition to poaching in oil, which gives a stronger flavor) locks in moisture and flavor. Court bouillon translates to "short broth" and is ideal for cooking fragile foods rapidly. Always start the broth cold with your meat already in the pan - especially with fish. Heat to a gentle simmer and maintain a temperature of 82 degrees Fahrenheit. When poaching chicken, consider leaving the bone in and the skin on for additional flavor. Remember to skim the foam occasionally to maintain a clear broth free from cloudiness. The key is to maintain the temperature of your poaching liquid throughout the cooking process.
Ariane Duarte (Season 5)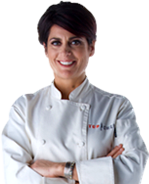 Ariane is the chef/owner of CulinAriane, a four-star restaurant located in Montclair, N.J. She was inspired to cook at a young age by her grandmothers. After graduating from the Culinary Institute of America, she worked at some of the best restaurants in the country before she and her husband, Michael, opened CulinAriane. While much of her time is spent at her restaurant, she loves spending time with her daughters, especially at the beach. She also enjoys entertaining for family and friends. Her strong belief is that anything can be fixed and to keep smiling.