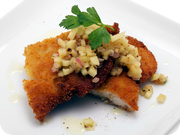 When pan frying, you'll use less oil (hence its other name, "shallow frying"). Two inches of oil heated to 350F is just about right. A cast iron skillet works best. Though in this lesson we cooked pork, you can also shallow-fry crispy fish fillets, breaded chicken breast, or anything that's thin enough to fry quickly.
CJ Jacobsen (Season 3)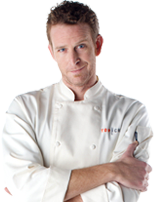 A true Californian at heart, CJ is a private chef who has worked for the likes of author and columnist Arianna Huffington and the Marciano Family of the Guess Corporation. An ex-volleyball player standing at 6'8" -- it seems everyone looks up to him. CJ is motivated to live life to the fullest having overcome testicular cancer. He has a competitive spirit and the utmost confidence in his culinary skills.