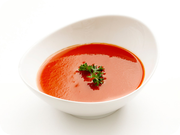 Pureed soups are classically delicious. Like any soup, you'll build flavors with roasted vegetables - just remember, there's no reason to cut these veggies perfectly. It's all going to get pureed. A few additional hints: the key to a good puree is smoothness, so don't hesitate to strain the mixture if you need to. And when you add your cream, don't over-do it - otherwise the soup will become pasty.
Spike Mendelsohn (Season 4)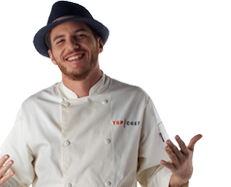 Spike works as the chef de cuisine at Tribeca's new hotspot restaurant, Mai House, owned by the renowned restaurateur Drew Nieporent. Mai House was named as one of the New York Times' top ten best new restaurants of 2007. Born in Montreal, Canada and trained in classic French cuisine in restaurants around the world. Spike has worked with Gerard Boyer at Les Crayeres, Thomas Keller at Bouchon and The Maccioni Family at Le Cirque. Spike believes in learning the basics to become the best. His latest venture is opening a new chain, Good Stuff Eatery, with his family (first location opening in Washington D.C. later this year) The new restaurant features his weaknesses -- hamburgers, hot dogs, fries and milkshakes.