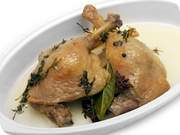 Confit is a classic French form of food preservation and preparation. This lesson focuses on duck confit, but the process can be applied to almost anything - the consistent theme is that confit always involves cooking cured products for very long periods of time at very low heat. After you've cured your meat and cooked it in the oven, let it cool in its own fat. Finish by searing the exterior for a crispy crust. The process of confit enables you to store prepared and cooked meats for 2 to 3 weeks in your refrigerator, so long as it stays in its own fat and oils. Remember, you can confit just about anything - from fruits and vegetables to just about any kind of meat.
CJ Jacobsen (Season 3)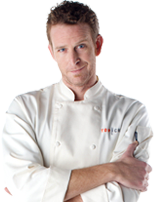 A true Californian at heart, CJ is a private chef who has worked for the likes of author and columnist Arianna Huffington and the Marciano Family of the Guess Corporation. An ex-volleyball player standing at 6'8" -- it seems everyone looks up to him. CJ is motivated to live life to the fullest having overcome testicular cancer. He has a competitive spirit and the utmost confidence in his culinary skills.