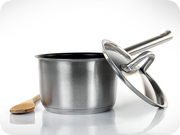 There's a world of cookware out there, but there's no need to purchase it all. One essential is a large sauté pan. Sauce pans are also useful - look for pots with thicker walls for even heating. You'll also need one large stock pot. Additionally, a good non-stick sauté pan is also critical. A turkey roaster - or large roasting pan - is another kitchen essential. Look for one with a rack. Other options include a Dutch oven for long braising or stews, a cast-iron griddle pan for searing, and a wok.
Carla Hall (Season 5)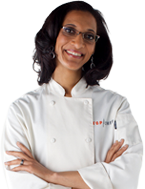 Carla is the chef and owner of Alchemy Caterers in Washington, D.C. Her food balances the heart and soul of the South and the refinement of her classic French training. She enjoys creating memorable comfort dishes with fresh, seasonal and local ingredients. Carla approaches each event as an opportunity to make a connection with the client and to change the way they experience food. She always has good European butter, Couverture chocolate, bacon, heavy cream, olive oil - pomace and extra virgin - on hand and pies are one of her favorite things to make.