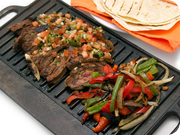 Flank steak is lean and perfect for quick-cooking. Dress up the meat with various spices and allow it to marinate to change the flavor. There is no need to marinate this cut of beef longer than 30 minutes. Cook over a high heat for no more than ten minutes total, and accent the dish with grilled vegetables. Make sure to slice the cooked meat across the grain and serve with warmed tortillas and your choice of sides.
CJ Jacobsen (Season 3)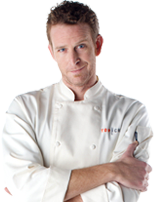 A true Californian at heart, CJ is a private chef who has worked for the likes of author and columnist Arianna Huffington and the Marciano Family of the Guess Corporation. An ex-volleyball player standing at 6'8" -- it seems everyone looks up to him. CJ is motivated to live life to the fullest having overcome testicular cancer. He has a competitive spirit and the utmost confidence in his culinary skills.