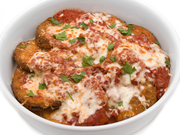 There are two basic elements of eggplant parmesan: the eggplant and the marinara sauce. We've already covered marinara, so here are some tips on eggplant: Always salt the eggplant after slicing - this helps retain moisture and it helps the vegetable keep its shape. This process is called "degorging." Eggplant is notorious for soaking up a lot of oil, so make sure you bread it evenly and thoroughly.
CJ Jacobsen (Season 3)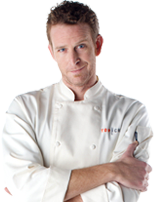 A true Californian at heart, CJ is a private chef who has worked for the likes of author and columnist Arianna Huffington and the Marciano Family of the Guess Corporation. An ex-volleyball player standing at 6'8" -- it seems everyone looks up to him. CJ is motivated to live life to the fullest having overcome testicular cancer. He has a competitive spirit and the utmost confidence in his culinary skills.