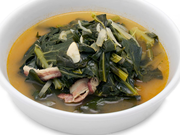 Braising vegetables is a great no-fuss way toward phenomenal flavors. Certain classes of vegetables hold up well to the long cooking process of braising...leeks and greens are two good examples. It's important to clean your veggies well before braising. Nobody likes a gritty dish. For leeks, cook until they are tender when pierced at the base with the tip of a knife. For the heartier collard green, cook until the entire green is tender.
Spike Mendelsohn (Season 4)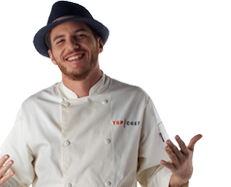 Spike works as the chef de cuisine at Tribeca's new hotspot restaurant, Mai House, owned by the renowned restaurateur Drew Nieporent. Mai House was named as one of the New York Times' top ten best new restaurants of 2007. Born in Montreal, Canada and trained in classic French cuisine in restaurants around the world. Spike has worked with Gerard Boyer at Les Crayeres, Thomas Keller at Bouchon and The Maccioni Family at Le Cirque. Spike believes in learning the basics to become the best. His latest venture is opening a new chain, Good Stuff Eatery, with his family (first location opening in Washington D.C. later this year) The new restaurant features his weaknesses -- hamburgers, hot dogs, fries and milkshakes.